Zoom Youth Group on Tour!
21st Jul 2022
Zoom Youth Group Visits Week Farm for Lambing Live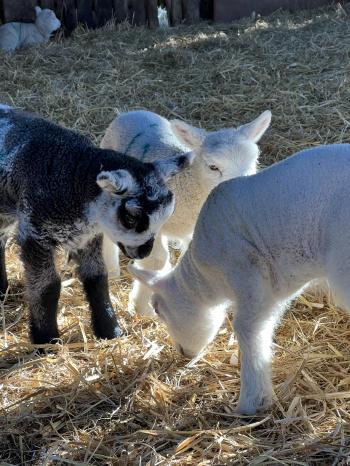 Earlier this year the Zoom Youth Group gang went on tour! We were invited down to Week Farm near Ringwood for our second year of 'Lambing Live'. A small crew of MYTIME staff were there to assist, including our media expert Jenny on the cameras, MYTIME's own Elaine giving an insightful and knowledgeable tour of the lambing sheds, Kate joining us through the airwaves to help keep an eye on things, and me - Jen, Zoom Youth Group Leader keeping the live streams going!

The Zoom Youth Group attendees loved watching Elaine from their homes and reacted to each lamb they met with lots of 'awwwww's, 'ahhhhh's, a colourful display of emojis and even some impersonations of frolicking lambs.

As Week Farm is run by Elaine's parents, she introduced us to the new flock of lambs in the shed. With only 3 ewes still waiting to give birth, the lambing shed was alive with baas and bleats. The pens were busy with ewes feeding and with lambs jumping around, snoozing, and nestling up on their mothers' backs. It was a very cute sight to behold and the young carers' reactions on each evening reflected this – some even volunteered for babysitting duties!

The Zoom Youth Group attendees had lots of ideas for names for the sheep, but none lived up to the brilliantly named Will-I-Lamb from last year. There were 2 lambs that quickly became everyone's favourites - the orphaned pair Wren and Pippin, who were set up with their own 'lamb cam' so the children could keep an eye on them throughout the session. These two were a favourite for the MYTIME crew as well, who enjoyed plenty of stroking and sneaky cuddles with the pair. For the ultimate cute factor, we were fortunate enough to watch these two being fed milk from the bottle by Elaine's mum.
After our time spent in the lambing shed, Elaine gave us a full tour of the farm. We saw the rams out in the field, the cows in the distance, the organic vegetable beds, and we even got to see Reggie, the farm's new border collie puppy. Reggie is definitely a sweetheart: although not ready to do any sheep dog duties yet, he did give me his paw and enjoyed a tummy rub. Maybe we can see him in action next year! The Zoom Youth Group attendees learnt so much from Elaine about the different kinds of sheep and life on the farm. We even learnt that Elaine has birthed her fair share of lambs herself, which really impressed us all.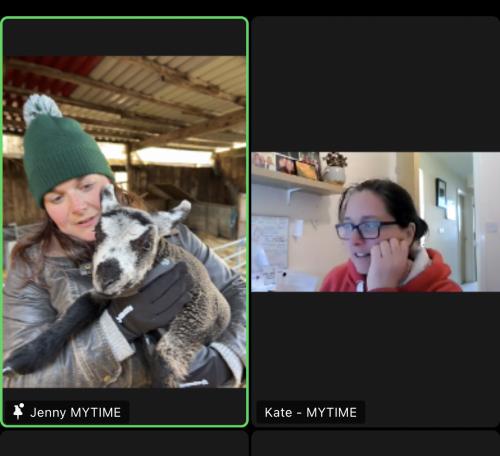 Thursday's Zoom Youth Group also got to see me try my hand at shepherding when a ewe escaped from the barn. With Elaine and Jenny out in the field showing off the rams, I had to put an urgent call out to Elaine over the Zoom call and attempt to direct the runaway ewe, much to the amusement of the Zoom Youth Group attendees as they watched me on camera. Badger, the ewe, ran out of her pen and ran around and around a hay bail, before hurtling off into the food shed. Elaine and Jenny returned to us quickly, and Badger returned to her pen as soon as she saw Elaine. Elaine reassured me that Badger is known for her escapology.

The Zoom Youth Group attendees had so many questions for Elaine: "How many animals on the farm?", "Where's Reggie, the new sheepdog pup?", "Can I buy a lamb?", "How much for a lamb"', "Is there a Zoom Youth Group discount?" to name but a few! Unfortunately, Elaine's lambs were not for sale, but we all had such an excellent time virtually hanging out on the farm. All attendees agreed that they felt happier by the end of the session, and we definitely had a lot of giggles to prove it.

We look forward to our invite back to the farm next year, and if Elaine is ever looking for apprentice shepherds, I think we'd have a few volunteers!