Hair2Care is back on February 18!
30th Apr 2022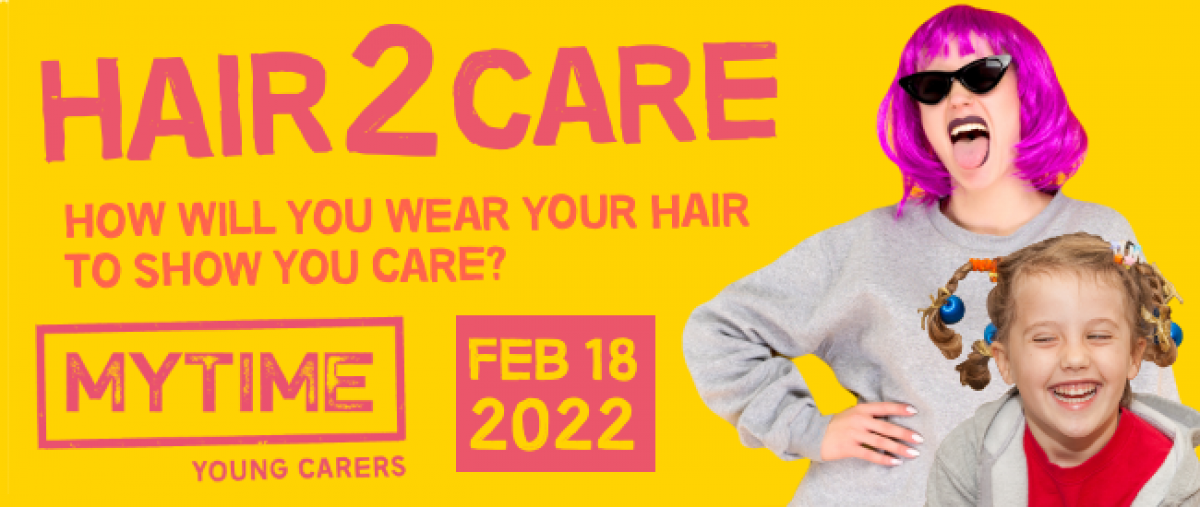 You might remember seeing MYTIME's Hair2Care campaign last year...perhaps you were even one of the awesome humans that got involved, wearing your hair in a funky way to show you care about young carers, raising funds for MYTIME but importantly, raising the profile of young carers too. This year, Hair2Care is back on 18th February, bigger and better than before, and we're looking for individuals, schools and businesses to get involved.
Did you know, there are an estimated 700,000 young carers here in the UK? These inspiring young people work hard to take care of their families, day in and day out, sometimes at great personal cost. They put others before themselves, every time. They learn more about compassion and sacrifice in childhood than most will learn in a lifetime. But how often do these young people receive the recognition they deserve? How often do we acknowledge the enormous contribution they make to our society?
MYTIME's Hair2care campaign represents a rare opportunity to publicly celebrate young carers, and the important role they play within our communities. Young carers often tell us that they feel invisible, but by taking part, you'll be showing young carers everywhere that you see them, you value them and you support them. Most of all, you'll be showing how much you care.
Last year's Hair2Care campaign saw so many epic hair styles being shared on social media with the #hair2Care. Among the countless participants who really stepped up to the challenge were local legends Paul Tansey and Tom Burn, who became MYTIME heroes when they chose to brave the shave! For these two, the hair2care campaign became the bare2care campaign, when they both shaved their heads in exchange for sponsorship. Paul even bid a fond farewell to his eyebrows too and managed to raise an extra £500 in the process!
This week, we checked in with Paul and Tom to hear what it meant to them to get involved with Hair2Care: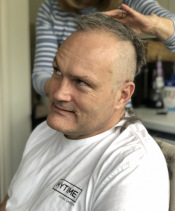 Paul Tansey

"Young carers inspire me. The fact that they give so much, are so clearly disadvantaged by what they do, but receive so little support troubles me deeply. As Chairman of the board of Trustees I wanted to do something outrageous to make a statement. As a relatively high-profile member of our local business community, I believed that shaving all my hair off suddenly would attract some attention. I wasn't wrong. Many people supported me and some dared me to go further – offering additional donations for the eyebrows to come off too. I obliged. I looked a bit weird for a week or two – my wife didn't like the look of me much – but I was proud (and so was she) to say that I did it for some very cool young people. This year I'm going to try and top that. Watch this space."
Tom Burn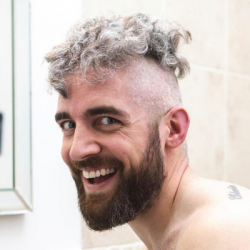 "Unlike many people, I have been lucky enough to see first hand the work that MYTIME puts in to supporting these kids, many of whom have had to become adults far too early in life. I have witnessed these young carers being given the opportunity to unwind and have fun with MYTIME, and I decided it was a cause I wanted to get behind and show my support to, however I could. I also just needed a haircut real bad! #Lockdownlife and all that."
Gestures like this really help to shine a light on the young carer community, and they mean the world to MYTIME.
Donations received from our Hair2care campaign will help fund our Making Memories programme. Through this programme, we offer activity days, residential retreats and online youth group sessions, designed to give young carers the much-needed breaks from their caring responsibilities that they deserve. Time for themselves. Time to relax and play with friends.
This year's Hair2care campaign is now less than a month away, so the question is, how will YOU wear your hair to show you care? Maybe you'll opt for a wild wig. Maybe you'll go for some crazy colours. Or maybe you'll even be courageous enough to brave the shave! Whatever you do, be sure to upload a photo to social media using the #hair2Care and tagging MYTIME Young Carers, then text to donate.
We can't wait to see what you get up to this year!
To donate £1, text HAIR to 70201
To donate £5, text HAIR to 70970
To donate £10, text HAIR to 70191